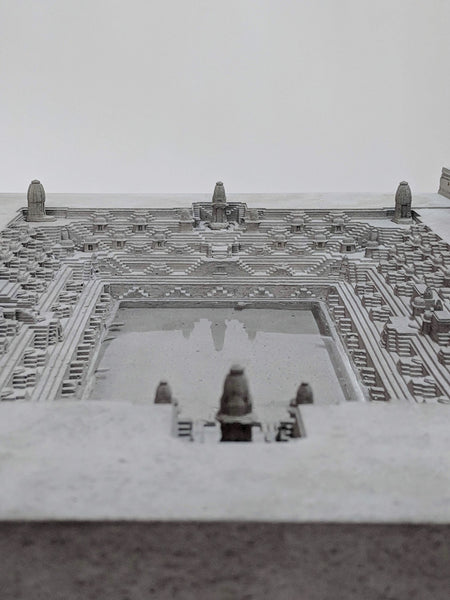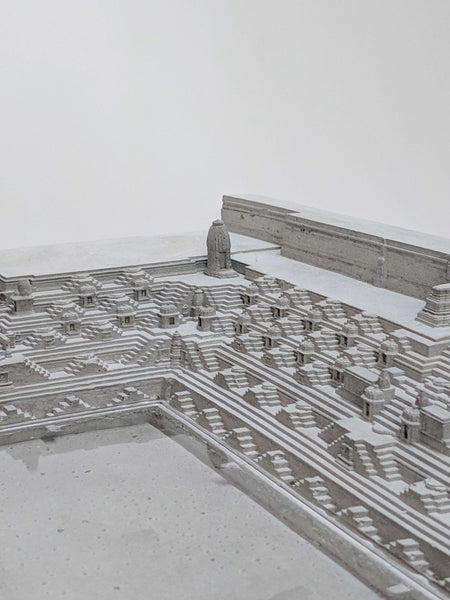 Suryakund
"A vast sheet of water, covered with lotus flowers, amid which thousands of aquatic birds and animals live, at the shores of which bathers washed, surrounded by jungle greenery."
Louis Rousselet, 1894.
Visually the stepwells have little presence above ground, a low masonry wall or pavilion. These are excavations that often descend down five to seven stories. An encounter with it generates both a sense of surprise and a feeling of utter displacement, descending into the earth has a particularly powerful impact. Once inside, the mind takes in the intelligent configurations of stairs, landings, galleries, interior balconies and underground chambers; the telescoping views, towering pavilions and the powerful dance of light and shadow is absolutely captivating.

Accustomed to looking up at architecture, rarely do we see structures with sublime engineering, craftsmanship and masonry going downwards. These magnificent structures have been an indispensable part of several Indian civilisations. Built by members of the ruling class, wealthy merchants or landowners, these were designed to store and replenish groundwater. During their glory days there would be peacocks dancing on the walls, noises of laughing children playing in abandon by the steps, and singing women as they went to collect water, creating a beautiful sanctum of happiness away from the scorching heat of the tropical landscapes.

The Suryakund is a part of the Sun temple complex in Modhera. The first look of the temple is its glowing reflection in the kund, which is a stylized mirror image of the Shikhara (temple spire). Symbolically bringing together fire and water.

The kund measures 53.6 meters X 36.6 meters at ground level. Its numerous steps are reminiscent of an Escher painting with unending staircases. The kund has 4 levels defined by terraces that punctuate the numerous pyramidal steps. While descending one starts seeing the 108 shrines that embellish the kund. The rectilinear steps and intricately carved shrines together create a captivating play of light and shadows, transcending the visitor into another realm.
Stepwells as a building typology is completely unique to India. As a design studio, we are absolutely captivated by these magnificent subterranean structures that are essentially stages for the orchestra of light and shadow.

We invite you to experience these breath taking structures in miniature form complete with its play of light and shadow.
Suryakund (Limited Edition)
Dimensions (WxDxH) : 457 x 345 x 121 mm
Weight : 22.82 kg
Material : Concrete
Note : The product is made to order and ships in 2-3 weeks on conformation of order.